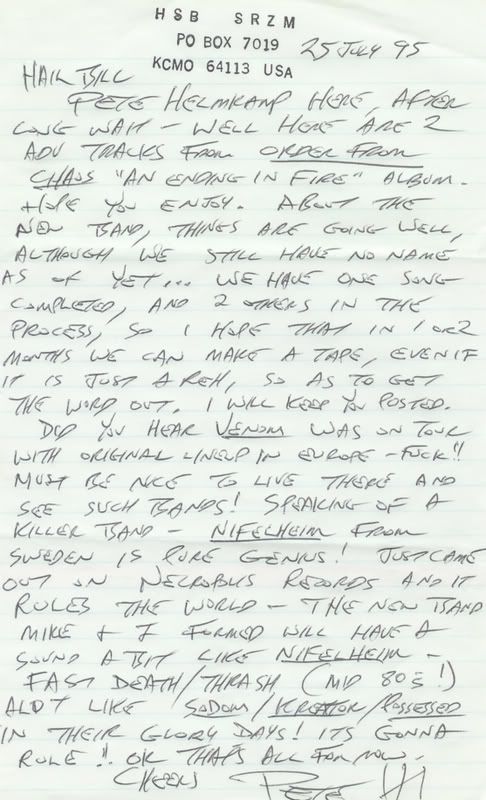 Chuck Keller

(OFC) live from the

Wetland
s NYC 1995

. Letter from

Pete Helmkamp

(OFC) 7/25/1995.
One of the best US death/thrash/black metal bands from the late 80's till the mid 90's was

Order From Chaos

. Man, I loved those guy's! I was lucky enough to catch em' live 2x during the mid 90's.OFC were ahead of their time
both musically and conceptually.
OF
C influence can be heard today especially in the

"War Metal"

genre. Spawning bands like

Bestial Warlust, Conqueror, Axis Of Advance

, and

Revenge

. Well, former OFC members Chuck Keller and Mike Miller have since gone on to form

Ares Kingdom

after the split of OFC. The Ares Kingdom debut

"Return To Dust"

is now out and let me tell you it's been getting
a lot of play around here...unrelenting Infernal Thrashing Death Metal!
I just sent an interview over to Chu
ck for
MF 6.

More info on Ares Kingdom can be found at
ARES KINGDOM
I also wanted to point out that bassist/vocalist

Alex Blume

was a member of the rather obscure early 90's death/black metal band

Nepenthe

. Nepenthe hailed form the same state(Kansas) as OFC and certainly was an influenece on the Nepenthe sound. Tra
ck down Nepenthe's awesome
1993 debut demo 'The Conqueror Worm"
and se
e if you agree.
Nepenthe Discography
:

The Conqueror Worm Demo,1993
Ligeia Single, 1995
Live at Howard's Demo,1995
In Death Overshadow Thee advance EP, 1997

Changed their name to

Ligeia
in 1996.
Original

ad

for

Nepenthe's 1993 demo "The Conqueror Worm"
Torche
blew me away with their debut that came out at the end of 05. HEAVY shit! Think Black

Sabbath, Hellhammer

, and

Melvins

. After seeing them live(ear's ringing for 2 day's) at CBGB's earlier this summer I knew
I had get em' in MF 6. I got the interview back from frontman Steve a few months back. Guy's a total death/thrash fanatic! An

Autopsy

fan at that too!

TORCHE
Fucken

Axegrinder

! How many of you old farts out there remember buying the

Prophecy Of Doom/Axegrinder

split back in the day? I still have my cassette! Axegrinder played music heavily influenced by

Amebix

, and other crust/punk rock bands that had been experimenting with metal riffs and sounds. I alway's t
hought they had a

Bolt Thrower

vibe about them which is probably why when grindcore and death metal became more popular they seemed to find their audience. I've been a big fan since the early 90's and was psyched to find a Myspace page for the band. Lo and behold I'm on the page and stumble across a comment from another Axegrinder fan by the name of Chris Eagan. Chris mentions he has an unpublished interview with Axegrinder from 1989. Holy fuck! Well, I got ahold of Chris and the rest is history cos Chris was cool enough to grant me permission to finally print the interview in MF 6. Mondo Thanks to Chris Eagan of (now defunct)
'Wake Up or Die!' 'zine & 'Desperate Attempt Records'.

AXEGRINDER MYSPACE
AXEGRINDER OFFICAL
Although not as nearly old a
s the Axegrinder interview is the one with
Marco
of
Atrax Morgue
fame that I've been sitting on since 96. My good friend Todd from the excellent
Transcendent Device/Marspiter
projects conducted the interview with Marco. Todd befriended Marco while both where in NYC. Marco had come to states to play a show with
Bloodyminded
, and
Deathpile
(which Todd was part of at that time). Cool interview in which Marco talks about an operation he had just undergone at the time and the nurse who cared for him.
ATRAX MORGUE OFFICAL
MARCO MYSPACE
TRANSCEDENT DEVICE MYSPACE

So there you have it
Ares Kingdom, Torche
,
Axegrinder,
and
Atrax Morgue
thus far in MF 6. Plenty more to come!
Listen up. All pictures and artwork are the real deal from my personal collection. I have no problem sharing but for godsakes ask first!